Traveling is a hobby and it is said that traveling is meant to be in natural places. A famous notion directs us towards the conclusions that technology is a hurdle for natural activities in the world. It can be true but the other aspect of the same matter is that you can't travel without technology. My recent visit was to the cultural Land of Morocco and it was the technology that made it easier to explore the destination as I wanted.
How Technology Helps you in Traveling?
This blog addresses some of the aspects to tell you how technology allows you to have better travel experience.
There are Apps for Smart Packing
There are mobile applications for smart packing and my argument would start from here. I have used packing apps many times and it helped me a lot. It helps you to pack your luggage according to your destination.
It reads the temperature of the destination and tells you what type of clothes you will need. Applications can also guide to pack according to the activities there. For example, if you are visiting a beach at a moderate temperature, it would help you to pack accordingly.
If you are heading towards the snowy area, the app will guide you to pack some extra layers along with the important things to survive in the mountain conditions. If you are on to your summer break, it would ask you that where are you going, then according to your activities, the app will tell you that what would you need there.
I used pack point and it was so useful in my all experiences. If you want to use the same, you should download it for upcoming travel experiences.
Booking Apps
How exactly is it true and how you have been helped by the technology during your travel experiences, this blog is to address this.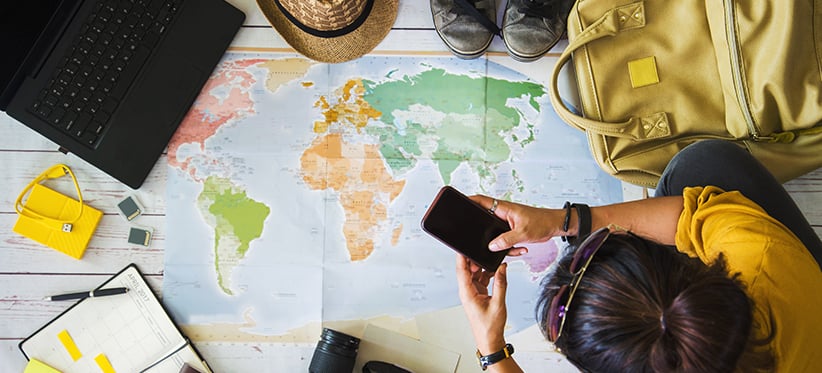 You can opt for the Booking apps to book your flights online or check the fairs and schedule. It is also a good thing and very useful. I used the booking apps rarely but the matter is to tell that technology now allows you to book your trip in minutes and within a few clicks.
If you want to download in your android or iPhone, it would help you in your future holiday breaks or business-related trips. The Cheap flights, packages and all that can be found on the app.
Destination Research
It would also be helped by technology that you can now find the destinations before moving. There are apps and website content in millions about this. You can go with any of the options.
I had found many family holiday destinations and places where I visited solo through the research. This also depends on the trends, an application would guide you where people are visiting the most. It also gets you to the places according to the beautiful destinations and the places with various activities.
Book Your Stay online
Another factor. You can also book your stay at the destination you are going to visit in the upcoming holidays. Sometimes you book for an inclusive package with the booked resorts or hotels. That is finer because you don't have to worry about your stay.
But on the other hand, you also have to don't worry now. Use Airbnb to find a better place on the destination you are trip stay. You also can try Couchsurfing, it is a very friendly application you can get good benefits from.
You can also approach the top-notch and cheap hotels on the through their websites online.
Transportation Applications
A traveler of the 21st century is blessed with the technology which now allows booking a local cab ride on application. Yes, I'm talking about Careem, and Uber which is known internationally. It is working in various countries in the world to help travelers to move around the city and to the other cities.
I used Careem in Morocco and Uber in the various other countries in the world. It helps you to roam around safely and on cheap prices. My suggestion for the traveler community is to use transportation applications and make your trip more comfortable.
Food online
Food Applications are now very common not only for travelers but for the families and everyone living in metropolitan countries. Big restaurants and hotels or international food brands now offer food home delivery within minutes. It is once again a very helping contribution of technology to society.
Use food applications on an international trip. You will research and ask people about what the trend is on the destination and what application people mostly use. Install the told application and use that mean.
There are dozens of things to tell you about the use of technology in your travel experience but here I will leave with the goodwill gesture.
Also read: 8 Tips for Travelling Abroad