The thing about delivery services is that it is picking up momentum like never before. As more and more people continue to be housebound owing to the corona virus pandemic lockdown, app based delivery services have continued to grow, however, if there is one certain fact, it is that even after things crawl back to normalcy, apps like the Rappi App Clone will always be popular.
We say apps like the Rappi app clone and not the Rappi app itself because once the concept of this app is proved, people all over the world have started developing their own versions of an on demand store based delivery app that is not just similar to the Rappi App, but also enhanced in many ways.
How can a cloned app be enhanced?
This is a very common question that most entrepreneurs have when considering a cloned app for their business. The first thing that one ahs to understand about app cloning is that it is not just a copy paste format that developers undertake. Cloning an app is a big task that has its own pitfalls and highlights.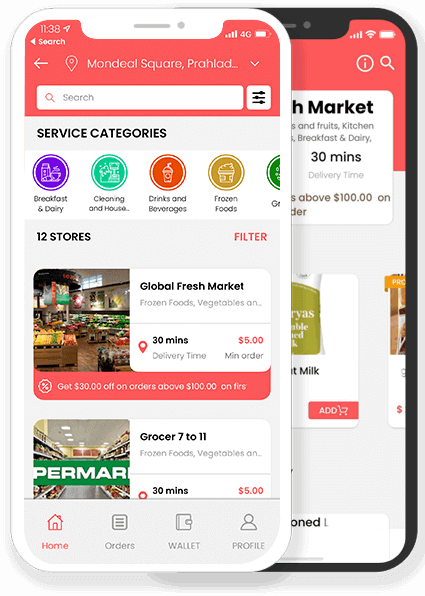 Before we understand the process of enhancing cloned apps, let us take a look at what really goes on when an app is cloned. Since we are discussing the Rappi app clone, let us use that for the example as well.
So, the Rappi App clone has been around in the market for a while now. Hundreds, if not thousands of people, have used the app and liked it. People have given a positive feedback toward it which has led to its tremendous popularity. Now, if someone wants to start their own store based on demand delivery business such as Food Delivery, Grocery Delivery, Bottled Water delivery, Alcohol Delivery, Pharmacy delivery etc. instead of building an app right from scratch, they can choose to buy a ready made cloned app.
A team of developers including Android experts, iOS experts, PHP developers, Systems analysts, Data base analysts, Content writers, Quality check teams and project manager analyse and break the existing popular Rappi app and study it right down to its last details. They strip it off all its ornaments and focus only at the script of the app.
Now, the team uses the script of this app as a template to build the source code of their new Rappi App Clone. Since the entire process of building the new code is essentially involving a lot of coding. it gives the developers a chance to add in their new features, insert codes for enhanced functionalities and to update any technical factors if necessary. This is perhaps the biggest reason why more and more people are turning to cloned apps in order to set up a business like the Rappi App Delivery brand.
Will it work in your country?
The existing Rappi app works in the following countries:
Colombia
Argentina
Brazil
Chile
Costa Rica
Ecuador
Mexico
Peru
Uruguay
However, if you wish to establish your business in a different country, there are 2 primary things that you must consider:
Language
Not every country speaks English or Spanish or even Mexicali. In order to ensure that even the locals of your area can enjoy using the app and thereby contributing towards the popularity and profitability of your app, you must ensure that your app is operable in the local language of the region where you are planning to launch the app.
The best thing to do, ideally, would be to consider all the official languages of your region and have them incorporated in the app along with English as a standard language to facilitate foreigners in your area.
Currency
How will the people of the region pay the app unless it has the option of the local currency? Most app developers who are swooned by the popularity of this industry are quick to clone the Rappi app but fail to include the option of ensuring that any and all types of payments can go through using the app in the local currency of the country where the app is launched.
Conclusion
The Rappi App Clone has proved itself to be a very successful and potent business in the recent few years. People today are not only looking at discounts and quality. When shopping, the modern customer is looking to have a great experience using your products. Therefore, if you wish to make your Rappi App Clone successful in your region, ensure that you offer an app that is usable by everyone in your region. To do this, only rely on a reputed white label on demand mobile app Development Company with at least half a decade's worth of experience in building and launching apps like Rappi. Taking a free demo of the Rappi App Clone before you purchase and launch it might be a good idea for your business.